Meet our new committee!
Peter Nicholson
Hi folks, Your new Chairman here. I have been tasked with co-ordinating this rabble and am here as a listening ear to anyone who needs it. I am also continuing my role of Tech no-plugs so if you have any queries around set building, construction or access to any tools I am your port of call. You can reach me on the committee email address and I will endeavour to get back to you as soon as I can. During productions I can also be called upon as fight choreographer and Clerk of works (COW). So to you, Anon.
Kirstie McMillan
Hi! I'm Kirstie and am very excited to be a member of your committee. I'm Vice Chair looking after our negotiations and relationship with Eynsford Village Hall and leading, with the rest of the committee, the strategic forward view for the group. Things to look for from me are your involvement and direction with the what you want from the group, working with the Hall trustees to ensure our continued facilities and of working with Ferne on operations to keep us all ticking over. Let's hear it for a great year!
Ferne Haxby
Hello! I cover several roles in the committee. I am Secretary/Communications and Operations where I ensure the committee has the relevant paperwork for meetings and that all items are discussed and followed up. I also deal with Correspondence from both members of the group and outside agencies. Another area I cover is supporting the group members operating the box office. Finally, I am also the Eynsford Village Society Rep, ensuring the group is advertised across the village and working with the other organisations and communities. I'm looking forward to being part of the committee and look forward to helping members with any enquiries that they may have.
Naomi Morgan
Hi, I'm Naomi and I run the Youth Group as I have been doing for almost the last 12 years. I have put on several different styles of productions and look forward to creating a more permanent link to the adult side of the group. For anything Youth group related please contact me by email on: [email protected] I have now also taken on the role of Social Rep with Jen, and I look forward to bring the group more activities. If you have any ideas Let us know!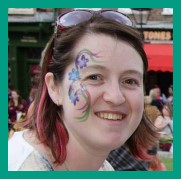 Sarah Hill
Hello, Sarah here, I am the Tech with plugs bod, this involves coordinating with teams to ensure the smooth running of all things powered throughout the year. If you have any queries or concerns relating to items which require a plug please email me on: [email protected] . I will be working alongside my fellow committee members in the Drama team, as well as working alongside Kirstie in our discussions as we move forward with Eynsford Village Hall.
Lynda Newton
Hello my Lovelies it's Lynda. I am continuing my role of Membership Secretary so I'll keep doing what I have been doing and chase you all for membership fees each April. I am your Safeguarding officer for any concerns regarding conduct or practice within both Riverside Youth and us as its adult counterpart. I will continue being involved with Social events and Musical assistance during shows. I can be contacted through the committee email and am happy to act as mediator for any discussions where an unbiased party is needed.
Jen Armstrong
Hey, I'm Jen and I am new to the committee. I am going to be working on the Newsletter and the Website. If you have anything that needs to go on there give me a buzz! I am also Heading up the Social team for the group. Along with Naomi so expect to hear about some fun Socials coming your way! I am also Drama Rep where I will be reading plays and looking at any ideas for future shows! So if you have any play scripts hiding on dusty shelves or in attics please let me know by email: [email protected]
Matt Friett
Hello, I am Matt and I will be continuing my co-opted role of Treasurer where I am your man for anything finance based. So if you have bought props (with show committee approval) or tea and biscuits to keep us going to rehearsals and you have a receipt I can give you your money back. Contact me on: [email protected] With this new committee I am taking on the role of Production Publicity If you have any information pertaining to the current production or would like to receive flyers contact me via the committee.
Clive Cheer
Hi, I'm Clive. If I'm doing my job right you wont see me much as I am practically involved and committee rep for Props and Wardrobe. I am helped by teams of individuals during each production. If you are interested in becoming involved contact me via the committee and we will see what we can do. I run my own props business where I make them myself and I am recently qualified in pyrotechnic artistry. So any bangs and flashed for shows are my department. I will be working closely with the committee members in the development of and expansion of the costume store.